WHY YOU NEED LANDSCAPE LIGHTING
Curb Appeal
The most obvious advantage of outdoor lighting is the way it makes your property look. It showcases your landscape and highlights interesting features in your home's architecture 
Security
It is a fact that a well lit home is far less likely to be targeted by burglars. The possibility of being identified goes a long way to deter potential criminals and vandals
Functionality
A properly designed outdoor lighting system will allow you to utilize your outdoor living spaces, even long after the sun sets
Personal Safety
Placing lights in strategic places will make navigating your property in the dark much safer. Lighting around pools, decks, steps, and walkways not only looks fantastic, it also provides a great safety feature
SIEBENTHALER'S CAN PROVIDE LIGHTING FOR YOUR HOME'S ARCHITECTURE, LANDSCAPING, POOL AREAS, PATHWAYS, DECKS, PERGOLAS, GAZEBOS, SIDEWALKS, FLAG POLES, PONDS AND WATER FEATURES, STATUES AND GARDEN ARTWORK, AND ANYTHING ELSE YOU CAN IMAGINE.
.In addition to new installations, we can service any existing lighting system. We can also update an older system with new components and even convert your old halogen system over to an energy efficient LED system.
If you have not given consideration to LEDs you really should. Here are just some of the benefits of an LED lighting system.
Contact Siebenthaler Designer Jason Gebhart for to get your lighting experience started.
Energy Consumption
LEDs consume 85% less energy than traditional halogen fixtures. This leads to significantly cheaper electric bills.
Low Maintenance
High quality LED bulbs will burn for tens of thousands of hours. In fact, the average LED bulb has an expected lifespan of 13.4 years with many lasting much longer.
Thermal Management
LEDs run significantly cooler than traditional halogen bulbs. This is a key factor to long lasting bulb life.
Environmental Benefits
Harmful chemicals, such as mercury, are used in the production of various types of light bulbs. LEDs 100% eliminate the use of these chemicals. LEDs also put off no light in the UV or infrared spectrum. The low energy consumption associated with LEDs greatly benefits the environment as well.
Financial Benefits
Initially, an LED lighting system will cost more than a standard halogen system. The financial benefit comes from the fact that an LED bulb will use 85% less energy than its halogen counterpart. LEDs also last up to 25 times longer than a standard halogen bulb which virtually eliminates the need for bulb changes, service calls, and routine maintenance. A home owner can realistically expect to see a return on their investment within a two year period.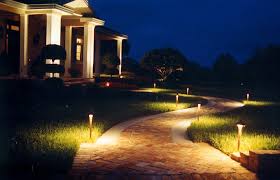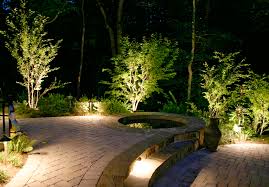 – All lighting pictures sold, designed or installed by Jason Gebhart, a Siebenthaler Landscape Designer